LOFTY™ Replaces Legacy CRM at Lucido Global for Increased Conversion and Accelerated Business Growth
When real estate tech innovation outpaced Lucido Global's legacy CRM, Chief Strategy Officer Robert Lucido Jr. knew his team needed a next generation technology stack capable of supporting their aggressive approach to innovation. Powered by AI, Lofty uniquely provides the innovative tools Lucido Global needs to effectively identify, nurture and convert leads for increased business. Within just 90 days, Lofty produced 187% more agreements with an average price per agreement of $650,000, 34% higher than those on their previous CRM, and saw a 42% increase in business generation.
Relying on Lofty's integrated smart dialers, flexible Smart Plans and intuitive AI Assistant, Lucido Global eliminated more than 40% of labor intensive, manual data entry, recouping valuable time and ensuring agents stay focused on revenue generating activities.
As the team continues to expand, Lofty is making it possible for Lucido Global to gain greater market share. By relying on Lofty to create more business opportunities and support greater efficiencies, Lucido Global effectively maintains its strong foothold as a leader.

Get the full story here -
Download case study
Lofty Inc. helps Lucido Global to boost their lead-gen performance with Pmax campaigns, significantly improving lead quality, while effectively reducing CPL.
25%

Lower Lead Acquisition Cost

68%

Cost Per Click

30%

Improved Appointment Set Rate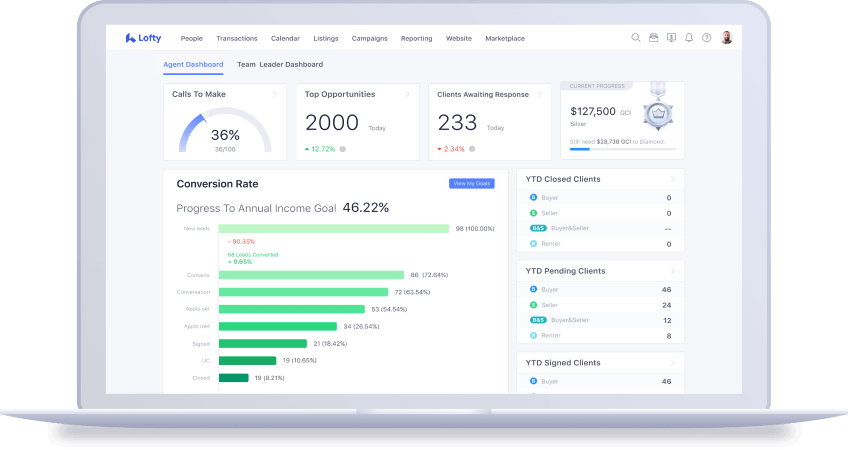 Responsive CRM | Intelligent IDX | Optimized Marketing
About Google Ads: Google Ads is a digital advertising solution for businesses of all sizes. Whether you're a small business owner or enterprise marketer, Google Ads delivers reach, relevance, and trusted results to help you grow your business. Learn more at ads.google.com/home.
© 2022 Google LLC. All rights reserved. Google and the Google logo are trademarks of Google LLC. All other company and product names may be trademarks of the respective companies with which they are associated.

See LOFTY in action.
Schedule a Demo